River Spey Canoe Expedition (5 days)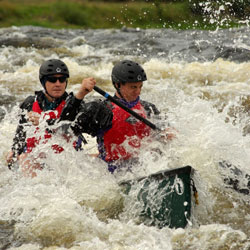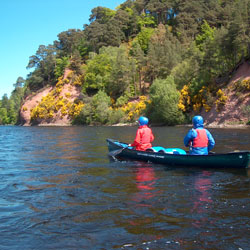 dan itibaren

GBP
425,00 £
Dates on request for groups of 4 or more

A 5-day journey down the majestic River Spey from Aviemore to the sea at Spey Bay.

One of the 'Big 4' rivers that is a must for the touring canoeist in Scotland, and which normally provides a fast current, great scenery and some interesting rapids. This is a part of the country that is steeped in whisky heritage and renowned for its natural heritage too, with the opportunity to see some local wildlife as you go.
Why paddle the River Spey with In Your Element?
Awesome Highland Scenery and one of the UK's great rivers.
Historic location with a rich natural and industrial heritage

Awesome wild-camping locations and plenty of tasty campfood

Fun-loving, experienced canoe guide to look after you.

This can be regarded as a moderately strenuous journey and is suitable for those that are age 15+, can swim 25m, ideally with some previous canoeing experience, although not necessarily a lot as your guide will be on hand to help you improve your canoeing skills as the journey progresses.
Itinerary:
Day 1
We'll collect you in Inverness or Aviemore before travelling on to Kincraig, where you'll be given the opportunity to get used to the canoes with some practice on the flat waters of Loch Insh, before making your way down river towards Aviemore.

Day 2

From our wild campsite down river of Aviemore, day 2 will consist largely of a gentle bimble down by Boat of Garten towards Grantown on Spey.

Day 3
A pretty adventurous day with a few grade 2 rapids including the 'Washing Machine', as we head down through whisky country towards Blacksboat at Ballindalloch.

Day 4
This day starts off with some more "interesting" rapids as we travel down past Craigellachie towards Boat o' Brig.

Day 5

Our final day as the river starts to slow down on its approach to the coast and ultimate destination, Spey Bay.
This trip will be at a relaxed pace and is therefore suitable for inexperienced paddlers. There will be plenty of opportunities to take breaks and stretch the legs on your journey down river.
Meeting Point - 9:00AM Inverness train or bus station or 10:30AM at Aviemore train station, unless otherwise agreed.
Finishing Point - you will be transported back to Inverness from Spey Bay for public transport or to a different location by prior arrangement.