River Spey Canoe Expedition (5 days)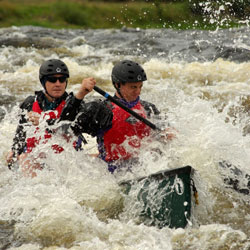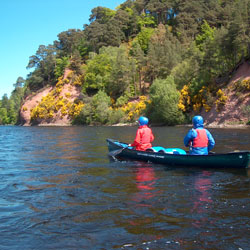 Duration: 5 Days (approx.)
Location: Aviemore
Dates on request for groups of 4 or more

A fantastic 5-day full descent of the majestic River Spey by canoe. One of the 'Big 4' rivers that is a must for the touring canoeist in Scotland, and which normally provides a nice pace of current and some great scenery. You will learn about the history and heritage of this wonderful river, will get to see some awesome wildlife and you may even see the odd salmon leaping as you paddle quietly by.

Our launch point will depend on the time of year and the river level, but is likely to be Kingussie or Newtonmore – two neighbouring small villages in the heart of Clan MacPherson country. On this Classic 5-day Spey Descent you will journey by tandem open canoe for 130km from the heart of the Cairngorms National Park (the UK's biggest national park) to the North Sea at Spey Bay, where dolphins and Osprey feed and play.

Trip grading: Moderate.

Suitable for: 13 years old and above. Under 15s must have an accompanying adult to paddle tandem with. You must be able to swim at least 25 metres and ideally have some previous canoe experience, although thisis not essential.

Meeting Point:
The meeting point for this trip is in Aviemore (in the café at Tiso Outdoor Experience) at 10.00. Aviemoreis easily reached if you are travelling by public transport as the London Sleeper train stops here at 07.30 and there are regular train and Citylink bus connections to Inverness, Glasgow and Edinburgh. It may be possible to collect you in Inverness at 09.00 if flying up the day before, but we can not guarantee it. Please ask if this would be useful to you.

The following is a sample itinerary. Actual progress each day will depend on the capabilities of the group, the speed of the river flow and the direction of the wind on the flat stretches:


Day 1 - the warm up!
After coffee and a 'getting to know each other' chat in the Tiso café we will head out to the car park to pack your expedition kit into our dry bags and barrels. Personal vehicles can be left here while we are away on the river. We will then transport you further upstream to the launch point.

Today is a gentle canoeing day as we travel from Newtonmore/Kingussie down through the RSPB Insh Marshes Nature Reserve to our first night wild camping somewhere around Loch Insh. If you have only paddled on day trips before then you will discover the delights of paddling fully-laden expedition canoes while your guide helps you to refine your paddling technique for the journey ahead.

Day 2 – Ospreys and steam trains
This morning we experience some small rapids as we journey down river from Loch Insh to Aviemore and then on to Boat of Garten. The Spey is still not a large river at this point but it is big enough to be causing active erosion of the river banks and we may have the occasional fallen tree to dodge. Early on today the River Feshie joins the Spey, increasing its volume considerably.

After Aviemore we are accompanied for a while on our journey by the Strathspey Steam Railway and it is lovely to have a traditional steam engine whistle by on our left while on our right fantastic views open up of the Cairngorms mountain range.

After a riverside picnic lunch we then pass through Boat of Garten ('The Osprey Village') and end the day with a very flat section of river as we head toward our overnight riverside camp spot upstream from Grantown On Spey.

Day 3 – Speeding up

As we paddle under the Old Spey Bridge in Grantown on Spey the river changes character and noticeably picks up speed on her quest to reach the sea. Long flat stretches of lazy paddling are largely behind us now and we need to focus more on reading the river and getting our canoes on to the best and safest lines through small rapids and rocky shallow spots. We are also entering prime salmon fishing territory and the number of fishermen enjoying the river and chasing their dreams will increase too.

This is a lovely, quiet and largely forested stretch of the Spey so is usually abundant in bird life. Tonight we will camp in the Ballindalloch area, somewhere in the region of Cragganmore distillery.

Day 4 - full of fun
A pretty adventurous and long day with a number of grade 2 rapids, as we head down through malt whisky country, through the infamous 'Washing Machine', through the Knockando rapids and on to Aberlour, finishing up near Rothes that evening to camp. If the river is at a good level and we make good progress then we will call a time-out at Aberlour for an optional distillery visit to Aberlour Distillery. Shame not to, whilst in the area….

This evening we will aim to camp at a favourite, secret wild campsite that we love near Rothes. More good food awaits and maybe a wee dram of Aberlour malt around the campfire to celebrate our last evening together.

Day 5 - approaching the coast

With the river now easing off as it approaches the coastal plain, the nature of the river changes dramatically. Although the paddling will be more relaxed as the day progresses the Spey does sometimes have a little sting in her tail. The constant erosion and shifting gravel banks on the braided river mouth approach to the sea at Spey Bay means that even the most experienced canoe guide sometimes has to 'wing it' on choice of route for the last kilometre or so!

On arrival it is all hands on deck to carry the boats and kit up to the car park but you will then get a chance to sample the delights of the Whale & Dolphin Conservation charity visitor centre, shop and café while the instructors load up the van and canoe trailer. Once suitably refreshed you will be driven back up the route of the river, aiming to be back in Aviemore by 17.30 latest.

This trip will involve fairly long days and is aimed at reasonably fit individuals, although not necessarily experienced canoeists.

Your canoe guide:
Your local guide will be a suitably qualified BCU (British Canoe Union) guide with lots of experience looking after groups on rivers all over the country. They will be on hand throughout the trip to look after your safety, help improve your paddling skills, cook your dinner, tell you about the countryside you are paddling through and, of course, make sure you have fun along the way!

There will be plenty of opportunities to take breaks and stretch the legs on your journey down river. Although the Spey roughly follows the route of the A95 rural road, you will be unaware of it for most of the journey and this feels like a wilderness trip. So please don't be expecting flushing toilets and running hot water!


Note: A minimum of 4 people are required in order for this trip to run.

Meeting Point: 10.00am at Tiso Café in Aviemore on Day 1
Departure Point: c16.30 at Tiso Café in Aviemore on Day 5

Meals: All meals will be provided, from lunch on Day 1 through to lunch on Day 5. Some snacks will be provided but if you are an avid 'snacker' then you may wish to supplement with your own supplies. Your river Guide will do most of the cooking, but some help with meal preparation and washing dishes would be appreciated and will expedite meal times so we all have more time to relax and explore in camp.