River Spey Canoe Expedition (3 days)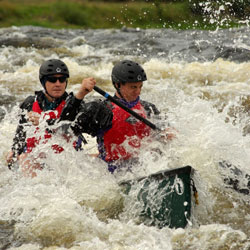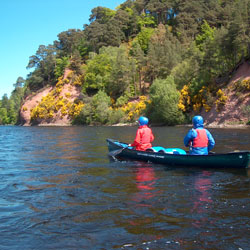 This Canoe holiday is currently on a 'request only' basis (for groups of 4 or more only).
A 3-day journey down the majestic River Spey to the sea at Spey Bay. One of the 'Big 4' rivers that are a must for the touring canoeist in Scotland, and which normally provides a fast current, great scenery and some 'interesting' rapids.
To paddle from Newtonmore to Spey Bay can take up to 5 days depending on the fitness, age, size of the group, weather and the water levels. For this trip, our 3-day mini-descent, we start near Aviemore, leaving you a journey of almost 85km to cover.

Trip grading:
Moderate.
Suitable for: 15 years old and above. You must be able to swim at least 25 metres and have some previous canoe experience, although not necessarily on moving water.
Day 1 - the warm up!

After meeting for breakfast in Aviemore we start our descent of the River Spey. Today will largely consist of familiarising yourselves with the canoe and your paddling partner with some coaching throughout the day. You'll get your first taste of some small rapids during the day, setting you up for a much more adventurous second day. Tonight you will camp on an amazing, secluded island in the middle of the Spey.

Day 2 - full of fun

A pretty adventurous second day with a few grade 2 rapids, as we head down through whisky country, through the well-known 'Washing Machine', past Knockando and Aberlour finishing up at Rothes that evening to camp.
Day 3 - approching the coast

With the river now easing off as it approaches the coastal plain, the journey at this stage is more relaxed again as we approach the sea at Spey Bay.
This trip will involve fairly long days and is aimed at reasonably fit individuals, although not necessarily experienced canoeists.
Your guide:
Your local guide will be at least a BCU Level 3 coach with lots of experience looking after groups on rivers all over the country. They'll be on hand throughout the trip to look after your safety, help you improve your paddling skills, tell you a bit about the countryside you're paddling through and, of course, make sure you have some fun along the way!
There will be plenty of opportunities to take breaks and stretch the legs on your journey down river.
Meeting Point - 9:00AM Aviemore train station. We'll take you for breakfast at a local restaurant and give you the chance to meet your fellow paddlers.
Finishing Point - you will be transported back to Inverness from Spey Bay for to get your evening train (or other location in Inverness with prior agreement).
Note: A minimum of 4 people are required in order for this trip to run.
Please note: if the scheduled dates don't suit your plans please get in touch with your preferred dates and we will be happy to accommodate this whenever possible.