River Spey Canoe Expedition (3 days)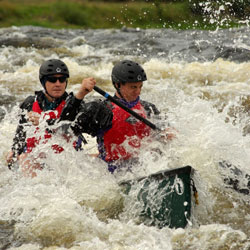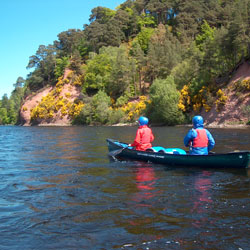 River Spey, 3-day Canoe Expedition
A fantastic 3-day canoe journey on the majestic River Spey. One of the 'Big 4' rivers that is a must for the touring canoeist in Scotland, and which normally provides a steady current and wonderful scenery. You will learn about the history and heritage of this wonderful river, will get to see some great wildlife and you may even see the odd salmon leaping as you paddle quietly by.
To paddle the classic full Spey Descent route from Newtonmore to Spey Bay takes 5 days. For this trip, our 3-day mini-descent, we start
at Boat of Garten, leaving you a journey of 87km to reach the sea.
Trip grading: Moderate.

Suitable for: 13 years old and above. You must be able to swim at least 25 metres and ideally have some previous canoe experience, although this is not essential.
Meeting Point:
The meeting points for this trip are in Aviemore (Tesco car park) at 09.00 or in Boat of Garten (lay-by beside the Spey bridge) at 09.20. Aviemore is best if you are travelling by public transport as the London Sleeper train stops here at 07.30 and there are regular train and Citylink bus connections to Inverness, Glasgow and Edinburgh. If travelling by your own car then Boat of Garten is the best meeting point. It may be possible to collect folk in Inverness at 08.15 if flying up the day before, but we can not guarantee it. Please ask if this is important to you.

Day 1 - the warm up!
We will transfer you to Boat of Garten, where we will spend some time sorting kit and packing it into dry bags and barrels for the trip. On the river, today will largely consist of familiarising yourselves with the canoe and your paddling partner, and getting some coaching throughout the day. You will get your first taste of some small rapids by the afternoon, setting you up for
a much more adventurous second day.
Tonight, you will camp on an amazing, secluded island in the middle of the Spey. Your guide will prepare a tasty, hearty 3-course meal for dinner then get the campfire going to relax by for the rest of the evening. Big day tomorrow!
Day 2 - full of fun
A pretty adventurous second day with a number of grade 2 rapids as we head down through malt whisky country, through the infamous 'Washing Machine', through the Knockando rapids and on to Aberlour, finishing up near Rothes that evening to camp. If the river is at a good level and we make good progress then we will call a time-out at Aberlour for an optional distillery visit to Aberlour Distillery. Shame not to, whilst in the area…
This evening we will aim to camp at a favourite, secret wild campsite that we love near Rothes. More good food awaits and maybe a wee dram of Aberlour malt around the campfire.
Day 3 - approaching the coast
With the river now easing off as it approaches the coastal plain, the nature of the river changes dramatically. Although the paddling will be more relaxed as
the day progresses the Spey does sometimes have a little sting in her tail. The constant erosion and shifting gravel banks on the braided approach to the sea at Spey Bay mean that even the most experienced guide sometimes has to 'wing it' on choice of route for the last kilometre or so!
On arrival it is all hands on deck to carry the boats and kit up to the car park but you will then get a chance to sample the delights of the Whale & Dolphin Conservation charity visitor centre, shop and small café while the instructors load up the van and canoe trailer. Once suitably refreshed you will be driven back up the route of the river to wherever we met you on day 1, aiming to be back in Aviemore by 18.00 latest.
Please Note: This trip will involve fairly long days and is
aimed at reasonably fit individuals, although not necessarily experienced canoeists.
Your canoe guide:
Your local guide will be a suitably qualified BCU (British Canoe Union) guide with lots of experience looking after groups on rivers all over the country. They will be on hand throughout the trip to look after your safety, help improve your paddling skills, cook your dinner, tell you about the countryside you are paddling through and, of course, make sure you have fun along the way!
There will be plenty of opportunities to take breaks and stretch the legs on your journey down river. Although the Spey roughly follows the route of the A95 rural road, you will be unaware of it for
most of the journey and this feels like a wilderness trip. So please don't be expecting proper toilet facilities!
Note: A minimum of 4 people are required in order for this trip to run.