Sunrise Canoe Safari Inverness (3 hrs)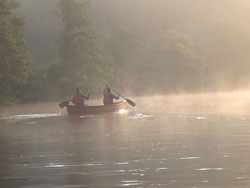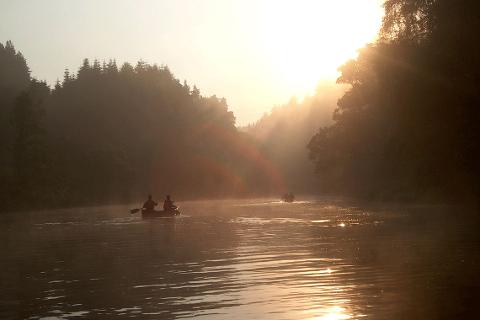 Duration: 3 Hours (approx.)
Early morning journey by Canadian Canoe. A gentle flat water paddle
through the impressive Aigas Gorge to look for otters and feeding osprey
as the sun rises... a truly memorable experience.
Minimum age 12. Minimum of 4 people required for this trip to run - should we fail to confirm this number of bookings we reserve the right to cancel the session and offer money back or alternative date.
After a basic
introduction to steering the canoes we will proceed in silence down the
River Beauly on a short but stunning journey to experience river life at
sunrise.
On our previous trips we have been lucky enough to see
families of Roe Deer drinking at the edge of the river, watched
Peregrine Falcon fledglings stumble along a rock ledge, watched otters
playing in the gorge, badgers foraging and ospreys catching fish and
taking them back to their riverside nest to feed their young.
Obviously
no sightings can ever be guaranteed, but even without the wildlife this
is one of the very best short canoe journeys in the country.
Meeting Point:
at the car park for the Aigas Fish Ladder on the A831 Beauly to Cannich
road (3 miles west of the junction with the A862, 500m beyond the
signed entrance to Aigas Dam when driving towards Cannich). We will
leave one or two cars here and proceed up the glen to the start point.
(We'll also send a map for additional information and contact details
for your guide on the day once booked).

Times: Meeting time depends on time of sunrise.
A light breakfast is included.
Please note that you have to be prepared to get up very early in the morning in order to be on the water prior to sunrise (that's all part of the fun though!)